Welcome to the Gainesville Safety Surfacing Team

When you start a safety surfacing project for the first time, you are usually not aware of all the factors, elements, aspects, and things you will have to consider and be aware of in order to obtain the desired result for your space and surface. However, if you have learned a bit about the field, you will be more mentally prepared rather than having fewer things to consider. Actually, it is a great idea if you take your time to learn about safety surfacing before even getting started and if it is not your first project or need for a service, just go over a quick review of the aspects you know are more crucial than any other.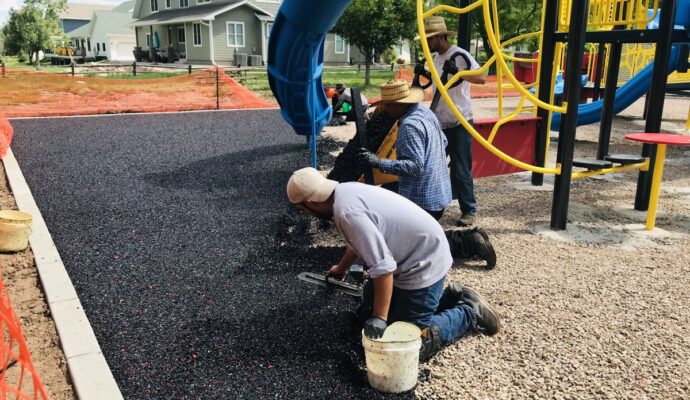 Something we want to make clear before anything else is that whenever you need to install a new surface, repair it, perform special maintenance, or replace it, keep in mind professionals are required if you want to obtain the best result. Of course, well-trained and experienced professionals can truly offer you the solutions and services you need. That being said, do you have anyone in mind in Gainesville or near you?
If not, our company Gainesville Safety Surfacing is able to offer you all the services you need and we will make sure you are able to have the best safe surface for your space or solve any problem you have with the existing one. Our company has been in businesses for over 12 years and every single one of the professionals we have under our wings has—at least—worked with safety surfacing for 5 years. Therefore, there is nothing to worry about when it comes to the quality of our services nor the materials and surfaces, we offer for installation.
Finally, before we get to the details about our services and how we can help you, we want to go over the details, factors, and aspects any person should know about safety surfaces when considering or starting a project in it.

What you should know about safety surfacing
---
First, they are not the same as regular surfaces. For us, regular ones are those that you usually see installed indoors. For example, those made of concrete, ceramic, granite, and the usual materials you listen to or read about. A safe surface should be able to provide support and shock absorption properties which means a hard surface is "no" regardless of how you see it. But what about those surfaces that are solid and tough and still qualify as safe? Well, the difference lies in the type of materials used or how the surface is specific.
A surface that meets these two aspects is definitely synthetic turf or even the real one, but if you have fallen in a park, playground, or even patio and yard before, you must know the harm is not a big deal thanks to the support provided by the turf. With this clear, we can move on with the next fact: not all safety surfaces are the same in characteristics, properties, and benefits. The most common factor you need to consider is their shock absorption property. Depending on the space where you will install the surface, you might need or not a surface that provides extra support for specific falls or accidents that could take place, or maybe for some activities and high-impact actions.
For example, poured-in-place rubber is one of the best safe surfaces that provides extra support and shock absorption properties, which are great for falls up to 12 feet. When you compare this option to rubber tiles, you will notice that the latest is not the best one for falls of this height. 
However, rubber tiles are amazing to add support for knees, joints, and ankles, and they perform well in heavy traffic spaces, which makes them great for indoor ones like gyms. The same continues to happen with other options in the market that can be similar to each other but all of them have specific benefits that exceed your expectations when comparing your alternatives and preferences.
Finally, we want to point out that not all surfaces can be installed in every space or location. To be more specific, you can but under your own risks since some of them will last fewer years or will not offer the best performance that they should. Why? Because factors like temperature changes, the traffic, actions or activities taking place, and the location in specific, influence how long it lasts and if it offers the shock absorption properties and supports it is known for as long as it should. For you to have a better idea of the factors to consider, below you will find the mention of the most important ones and a few additional ones that we include in our company:
The temperature changes in your location.

The size of the space where it will be installed.

Your needs when it comes to shock and noise absorption as well as support.

Your preferences in looks and styles.

Your budget for the project.

The maintenance required by the surface.

How well it performs in indoor and outdoor spaces.
How do we help with your needs and projects?
All our assistance lies in the services we are able to provide you. Since we have been working in this field for over a decade, you can rest assured that besides the specific safe surfaces we can install for you, our company Gainesville Safety Surfacing also offers general services for any need and problem you have:
---
What is the best surface for your space?
It will depend a lot on the previous factors we mentioned. However, we wanted to make sure you could have an idea based on the options we offer. Therefore, you can look forward to a few recommendations about what surface you can choose:
Poured-In-Place Rubber: if you need a surface that offers the best shock absorption properties, this one competes with every other we have available and even those that we do not include since the two layers system is quite unique due to how thick the base layer can be.
Bonded Rubber: if you are installing the surface in a space where water or humidity are common—like pool areas—, you will find it quite suitable so you do not have to worry about its durability and longevity.
Bonded Rubber Mulch: when you have preferences for the loose look of wood mulch and still need a safe surface that provides support for regular activities that take place in parks, playgrounds, and training fields, this rubber option is suitable.
EPMD Rubber: it can be used regardless of temperature changes but our recommendation is to install it mostly in playgrounds, sports fields, and places where the noise absorption is useful the most.
Rubber Tiles: indoor spaces are the most ideal for this surface for the reasons we previously mentioned. However, if you want a geometric pattern for your outdoor space, do not feel limited.
Synthetic Grass: overall, it can be used in any place where you want the look and support of real grass but without having to deal with watering and high maintenance.
Synthetic Turf: sports fields, as well as training ones, are the most common for this surface and wherever you require a solid and tough surface, we highly recommend using it.
How to access any of our services in Gainesville
When you are trying to find safety surfacing services, we know you usually struggle when making sure that they are near you. After all, how can you work with a company that is in another city or miles away from you? You could, but you will usually spend a lot of money paying for retributions due to the trips the team will have to make in order to work on your surface. Therefore, it is not profitable nor affordable.
If you are trying to find a reliable and experienced company in safety surfacing, we are right next to you in Gainesville. Actually, you can find us in more places throughout the state and even the country since we are a statewide company dedicated to this field. To access any of our services, you do not have to struggle either since it only takes a call, email, or filling our contact form on the website. This form works for any person and company that requires our services regardless of their location. We would love it if you mention your location—however—when contacting us so our team can prepare the right professionals that will get to your place in no time.
That being said, do you have in mind the service you need from our professionals? For example, do you need our team to handle the installation of a new surface or maybe repair an existing one? One thing we want to mention is that our services are not limited to only a few locations. What do we mean by this? That every single one of our 8 services can be accessed in Gainesville and statewide. Therefore, if you do have an idea of the solution you need, you are free to let us know right away.
Since we want to make sure that you are satisfied with the results in the case of installations, we will go over the surface you choose with you. What we mean with this is that advice, recommendations, and guidance will be provided for you to choose the most suitable surface based on the factors we mentioned but also, on others that tend to appear depending on the specific project. We know you are probably confused so far and since accessing our services is so simple, we only encourage you to rely on our professionals who will handle everything from zero if needed.
Who can contact us?
Companies, homeowners, commercial owners, and companies that work for the government; anyone who has problems with safety surfaces or needs to install a new one can contact us. We cover all companies, businesses, individuals, and entities that tend to need a new surface that can provide shock absorption and support. After all, patios and yards are common spaces where surfaces like synthetic grass and turf are needed, but homeowners are not the only ones interested in them.
Also, playgrounds and city parks do not usually belong to homeowners but rather companies or the government itself. To cover all these spaces and places, we have to make sure to be open to requests from anyone and this is exactly what we do. Therefore, contact us at Gainesville Safety Surfacing anytime and we will be there for you right away.
Below is our list of additional services: