Best Bonded Rubber Installation Services in Gainesville, FL

When trying to make a decision regarding your new safe surface, you will need to take your time and make sure you are able to choose one while being well-informed and knowing why it is a good option for your situation in particular, and this applies to bonded rubber, EPDM, or any other you have in mind. But focusing on bonded rubber since it is the reason why you are here, the best way to start is by knowing the properties of the surface and how it works in both indoor and outdoor spaces. For this, you can take your time doing some research online but the best option is to get the information from professionals who truly know about the surface and how it works.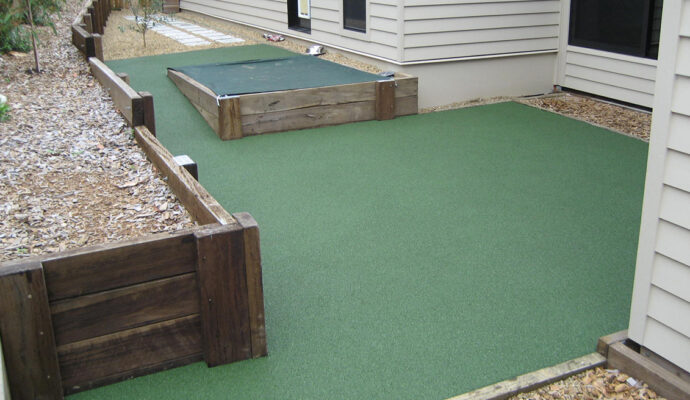 However, here is another issue you might have: not all professionals are aware of what they are doing. This can sound a bit off since you usually rely on them in order to prevent being in the air and without having the wrong information. Unfortunately, many professionals in Gainesville and Florida that are specialized in safety surfacing are not quite experienced in it regardless of what they say or offer.
As a result, you need to take your time choosing one that will:
Provide the information you need.

Deliver top-notch services.

Guarantee the best results for installation, repairs, maintenance, and replacements.

Offer the surface you want to install.
At Gainesville Safety Surfacing, we can help you by providing all the services and details you need to know about bonded rubber since it is one of the first surfaces we started to offer in our company due to how good it is for almost every outdoor space. Since we mentioned that starting in knowing more about the surface is the right move, rely on us to make this possible. We will make sure to provide you with the details and if you end up choosing the surface for your space, it will be a decision made while being properly informed and with the assistance of our professionals for future tasks, like installing it once and for all.

What is bonded rubber?
---
To answer the simplest yet right question, this is a unitary or single-layer surface that is mainly made of rubber, which is a recycled material and offers great absorption. The beauty of this surfacing option in comparison with others made of the same material lies in how well it drains and its porosity. Most surfaces are unable to offer great drainage due to their composition and system. This is not something you usually worry a lot about but it is great to have an option that can offer you this when you are trying to install it in spaces or areas where water and humidity are common.
But are these the only aspects to point out about the surface? Not quite. You can also notice how quickly it dries, its efficiency and performance for absorbing damage, and the support it offers for specific falls and accidents. Also, it tends to perform well with all types of climate but temperature changes—frequent ones—could be an issue. With this in mind, you can start thinking about how good the surface is for you or maybe not. In our experience, bonded rubber can be used in most spaces in Gainesville since the weather or temperature changes are not a problem in the area most of the time. However, other factors are indeed involved for you to choose it, which is something we will get to later on.
Now, this rubber surfacing option is usually installed in playgrounds, schools, pool areas, and similar places that tend to be public or available for many people, which leads to heavy traffic. Finally, something we have to include in our description and explanation about the surface is what a single layer means. Many options in the market consist of two layers, which means that the surface has one specific layer installed to provide a characteristic or benefit—mostly support and shock absorption—and another to guarantee the design and look of the final result.
In this case, this bonded surface only has one layer and it brings great benefits since it makes it a low-maintenance option that will take you a few hours in all the years it can last. This is why we highly recommend it because its longevity, durability, performance, and aesthetical appearance will remain even without providing specific or special maintenance.
Is it difficult to install it?
---
Not at all but this is as long as you have well-qualified and trained professionals handling the entire process. The quality and longevity of a surface tend to depend on the materials used for it. In this case, there are many types of rubber and if the one used for your surface was TPV or EPDM, you do not have to worry about this. However, the installation and how it is performed will be 50% of the final result and its quality. Poor installation can easily end in a surface that only lasts half of the years it should or you could need to provide maintenance quite often when it should not be necessary.
In other words, you can easily have a surface that is not what you should expect. This is why it may not be difficult to handle the installation of bonded rubber, but relying on experts will guarantee you the best results possible. At Gainesville Safety Surfacing, we will be more than happy to help you during the entire project and guarantee you do not have to spend more on your surface later on. With the installation and any other surface delivered by our professionals, you will be able to enjoy your surface in any space: schools, city parks, patios, sports or training fields, pool areas, playgrounds, kindergartens, or any other space where it is quite necessary. Just keep in mind that the shock absorption property is crucial and we will help you to determine if this surface meets your needs in this aspect.
Below is our list of additional services: