Best Synthetic Turf Installation Services in Gainesville, FL

For the record, grass and turf are not the same but they do look similar. Now, when you take it to the next level and consider artificial options like synthetic turf, the statement remains: they are not the same surface. The grass is usually used for landscaping and in spaces where safety is needed but not always the main priority or more like a second part of the needs of the person.
By now, you must be used to seeing grass all over the place and in spaces like playgrounds, patios, yards, and more. However, what if we tell you that it is not always grass? For example, you do not tend to see grass in stadiums or training fields, instead, you are witnessing turf.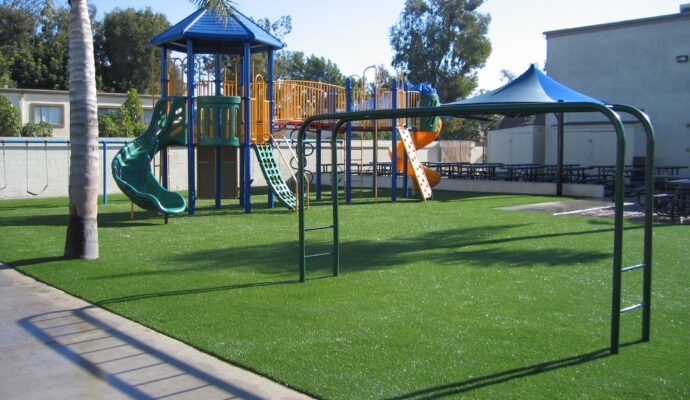 The main difference between them is the use in particular. Instead of landscaping, turf is used for high-impact activities and therefore, places. The previous ones we mentioned are spaces where sports or very specific actions take place and support and shock absorption will definitely be the main characters of the surface and the reason behind choosing it. That being said, there are more differences you will notice right away:
The grass is much softer than turf, which offers a solid and tough surface yet with great support.

Turf tends to be darker in color.

Turf offers better grip and shock absorption properties despite the solid surface as a result.

Although both of them can last the same, proper use and place where it is installed will influence in this. Grass, for example, would not last long in places where turf is used.
If you feel like this is something you should have known before, do not feel bad about it. Now, moving on with the main part of this, where is synthetic turf placed in all this? Keep in mind that turf overall is a safe surface due to its properties that we have briefly mentioned so far. When you choose to use the artificial option, nothing will change in terms of where or when you use it. You can continue installing it in stadiums, playgrounds, or places with heavy traffic. Nothing will change in these aspects.

Where it does change is when it comes to the extra benefits synthetic turf brings. At Gainesville Safety Surfacing, we are interested in letting you know first before you make a decision on acquiring the artificial option or not. Therefore, look forward to a brief overview of this.
Why artificial turf is better than the real one
---
Essentially, because you do not have to water it. The problem with both turf and grass is that they require watering and not only once every month or similar but rather frequent and several times a week or, at least, 4 times. This makes this surfacing option—when it is with the real turf and grass—to be anything but eco-friendly. Also, the bills for watering it quite often are high when you pay attention to it and in the long run, you are just having a surface that probably looks good and offers the support you need but costs you a lot more than it should.
This is when synthetic turf plays an important role: you will not spend time nor resources in watering it and you will be helping the planet in the process. But is the artificial option the same as the real one? No, it is better. When it comes to the looks, aesthetics, properties like shock absorption and support, you will not notice the differences between each other and even more, the artificial surfaces tend to bring more benefits due to the main reason why they are manufactured. In the case of turf, you will have a surface that could end up being more comfortable, more stunning, and even safer.
On the other hand, it does not require a lot of maintenance. Providing some watering once a month or not at all does not make a difference and when it is about using chemicals or other products, the same applies. This one is considered to be a low-maintenance surface and you will soon discover why. Now, thanks to this, most people that choose to install it get their money returned in a matter of 2 to 5 years since there will be no expenses related to the maintenance of the surface or anything else. Just think about it, you get the same from real turf but without having to spend more even after finally having the surface.
How to choose your artificial turf
---
Not all materials for manufacturing this surface are the same. Some companies use either low or medium-quality materials for the fabrication like basic plastic or a regular one. However, turf made of these materials will not last long and you will end up spending more even before getting your money returned for investing in this surface that is supposed to offer you this. What you need to look for is turf made of nylon or polyethylene, maybe both when a company is willing to use them or already does.
In ours, we only use these two materials to guarantee the quality of the turf and ensure you are able to enjoy it for over two decades. You will be able to notice the difference between a low-quality turf and one made with nylon. It is softer yet offers the solid and tough surface that is needed for the places where it will be installed. In our company, Gainesville Safety Surfacing, choosing your turf will not be difficult if you leave it to us. We will provide you with samples and handle the entire installation process and any other solution or service needed will also be taken care of by our professionals. Just let us know if you are interested in this surface and do not worry about other factors and even steps in the project since our professionals will handle it all and what you need to do is to contact us right away.
Below is our list of additional services: