Best Safety Surfacing Installation Services in Gainesville, FL

When working with a company or professional in safety surfacing, you have to make sure that person or entity is able to provide you the right solutions for your problems or specific services based on the project in your hands. Several companies in Gainesville and throughout the state only offer installations and a few repairs for only two or three surfaces since they are the only ones the professionals are able to work with.
This is not bad at all since it is a matter of how capable the company is or how much it has been able to expand its services so far and, in our experience, companies that stay true to themselves in terms of what they can offer are the best instead of others that offer everything but are unable to deliver satisfactory results. But what could you need when it comes to safety surfacing? Aren't repairs and installations enough or what you need most of the time?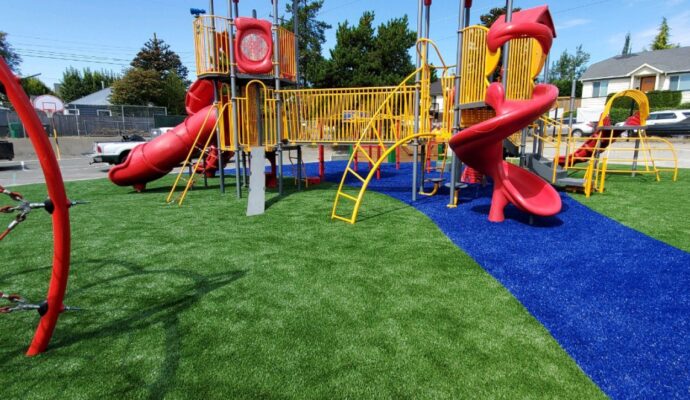 You could also need to replace an already existing safe surface, which is not the same as just installing one from zero since replacing it requires preparing the space and additional steps. Sometimes, you might also need to provide maintenance to your surface even if it is a low-maintenance one that does not tend to give you problems in this matter. For all this, many people consider the idea of doing it themselves and we truly encourage you to avoid this at all costs.
The worst result you can get from performing poor maintenance, installations, repairs, and replacements for a safe surface is not having safety at all. Many consider that what determines the quality of the final result is the material used for the surface but the installation and other services you perform to it are also crucial if you want it to last and perform well in the short and long term. If you are in need of any of the previous services or want to deal with your problems and tasks, our team at Gainesville Safety Surfacing is able to provide you with all the solutions.

We have been working in this field for over a decade and we know quite well how to handle every step and process to guarantee high-quality results that will not disappoint in terms of appearance, safety, and performance over the year. Therefore, if you have anything in mind, rely on our team of professionals. However, if you have not made a decision yet, we want to provide you with some information you should know about safety surfacing beforehand.
Factors to consider when choosing your surface
---
We want to make something clear: not all surfaces are the same. You can find yourself choosing a surface that is made of the same materials and only differs in look and style, but you need to know there is more to it than just how the surface looks. Shock absorption properties, support, and longevity, as well as durability, are factors and characteristics that vary according to the surface.  Therefore, if you want to choose the right one for your space, you will need to think about a few questions:
What type of accidents and falls can take place in it? According to this, you will need more or less shock absorption.

Is the climate in your city or area cold or hot? Maybe it experiences many changes? Based on this, choose one that adjusts to the specific weather.

What design or look do you want to obtain? After all, your preferences in this matter.

How much time or money can you invest in it in the short and long term? This will help you to determine if you can afford to have a high-maintenance surface or a low one is the best.
Since there is a lot to consider and the questions just keep coming depending on your situation, we want to summarize the factors to consider:
The level of shock absorption and support you need.

The climate in your location.

Your design and style preferences.

Your budget for the project or service.
Our team at Gainesville Safety Surfacing will assist you in all this if you are having a hard time trying to determine what is the best option available in the market and within the surfaces, we are able to help you install.
In advance, we want to let you know that most of the surfaces we are able to install are of high quality only and, most of the time, the decision will be based on pure preferences since most of them meet with standards when it comes to impact absorption and other properties.
How to get in contact with us to request our safety surfacing services?
---
This is not difficult at all. Unlike other companies, we put a lot of attention on how simple is to access our services. We do not want to make it an adventure when you should be able to have professionals working with you in no time. Therefore, expect it to be as simple as a calling, emailing us, or visiting the nearest office to your location. When going for the latest option, keep in mind we are available in Gainesville but also throughout the entire state of Florida.
Gainesville Safety Surfacing is, in fact, a nationwide company able to be there for you without any issues although we are more focused on Florida, this does not mean the rest of our services decay or get worse in other states. In case you are not in this state or city, you can use the same options for contacting us and let our team of experts know in advance what you need or if you need us to start from there: in helping you decide what is the service and solution required for your project or problem. We will be more than happy to assist you in everything and remember that these general services in surfacing are available for all our 7 surfaces that you can choose to install with us.
Below is our list of additional services: